---
New & Used Cameras & Equipment
Camera House is the oldest photographic dealer in Birmingham, and is proud to be one of the longest standing camera shops around.
We specialise in second hand and used cameras, as well as the various camera accessories to accompany them. We pride ourselves on stocking fully functional, professionally cleaned used cameras, lenses and accessories. Our large range caters for beginners through to professional-level photographers.
We also sell brand new UK sourced cameras, lenses and camera accessories including the latest digital SLRs from Canon, Nikon and Sony; Compact System Cameras and lenses for each type of interchangeable lens camera. Our camera shop has a thorough grading system for all of our stock, ensuring the quality every photographer needs.
No matter what your photography needs are, you are sure to find the second hand camera or camera accessories that you are looking for. You can trust in Camera House as one of the leading camera shops to deliver excellent standards across our range. Contact us today if you have any enquiries, we will be delighted to use our expertise to help you.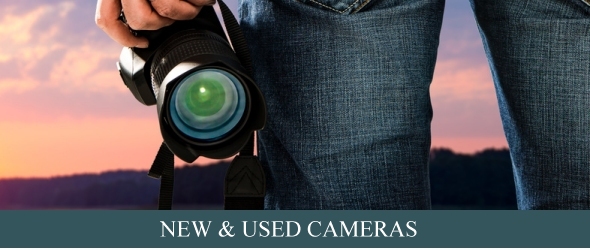 ---
What our customers say....
Fantastic service from this company camera was as described and a very fast delivery. I would certainly recommend this company.
Clive Edward Wenn, UK
Dear Rod Thank you very much for your excellent and very professional service . The Linhof is amazing . Best wishes Jim Howlett ps. If only all online purchases were so accurate and satisfying.
Jim Howlett, UK
Hi Rod, Just wanted to let you know that the Hasselblad arrived all well and beautiful! I did so much research about photography and can not wait to put it to practice with this gem. Thank you for everything. Best regards, Derya
Derya, Netherlands
Rod. Many thanks for the delivery. I was completely amazed at the condition of the camera. It looks as though the camera only left the factory today. ABSOLUTELY FIRST CLASS. Many thanks. Alan
Alan Hawthorne, UK
Morning Rod, Simon Stafford magic lantern guide for the Nikon D200 arrived this morning, immaculate condition definitely goes beyond the OEM instruction manual. I will definitely be writing another positive ⭐⭐⭐⭐⭐ review for both the Nikon D200 and the recently aquired Sigma APO DG 150-500mm F/5-6.3 HSM DG OS lens ..
Martin Shakeshaft, United Kingdom
I purchased Minolta and Olympus camera, both are point and shoot 35mm. They came in amazing condition, fast shipping and fast response to any queries. Recently got my films developed using the two cameras and the images turned out great! Thank you!
Angelica, United Kingdom
Hello, the Lens has been arrived in best condition. Thanks a lot. Kind regards Marcel Wieditz
Marcel, Germany
Great customer service. The camera was exactly as described on the website.Camera House contacted me after I received my item to ensure it was working OK. They also sent the item with priority shipping to meet a deadline I had. Highly recommended.
ANA WILLIAMS, London
Good morning, I have received my camera body thank you it is just what I needed to replace my faulty body! once again thank you Regards Mr Arnold.
Bob Arnold, UK
Dear Sir/Madam at Camera House, Just received an order from you, with the business card of Mr. Rod Parsons. The kind care i felt, and looking after small details even with such a very inexpensive item i needed is very much appreciated. Thank you. Looking forward to my next time. Yours, Dr. M.Taft
Dr M. Taft,