---
New & Used Cameras & Equipment
Camera House is the oldest photographic dealer in Birmingham, and is proud to be one of the longest standing camera shops around.
We specialise in second hand and used cameras, as well as the various camera accessories to accompany them. We pride ourselves on stocking fully functional, professionally cleaned used cameras, lenses and accessories. Our large range caters for beginners through to professional-level photographers.
We also sell brand new UK sourced cameras, lenses and camera accessories including the latest digital SLRs from Canon, Nikon and Sony; Compact System Cameras and lenses for each type of interchangeable lens camera. Our camera shop has a thorough grading system for all of our stock, ensuring the quality every photographer needs.
No matter what your photography needs are, you are sure to find the second hand camera or camera accessories that you are looking for. You can trust in Camera House as one of the leading camera shops to deliver excellent standards across our range. Contact us today if you have any enquiries, we will be delighted to use our expertise to help you.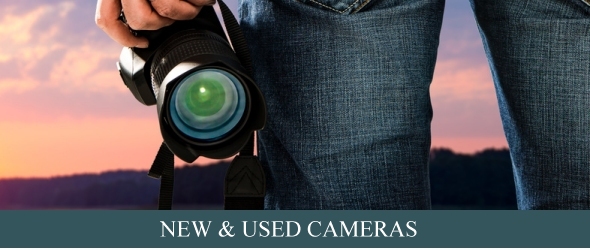 ---
What our customers say....
Rod. Many thanks for the delivery. I was completely amazed at the condition of the camera. It looks as though the camera only left the factory today. ABSOLUTELY FIRST CLASS. Many thanks. Alan
Alan Hawthorne, UK
I bought a nice little SONY compact digital camera. Unfortunately, the battery supplied was: 'a dead duck.' However, without any quibbling, a new battery arrived within a few days. I will certainly do business with Camera House in the future.
Peter H Mussell, United Kingdom
Hi Rod, Thank you so much for the express delivery, they have arrived and they are perfect! Thank you so much. again thanks! Christian
Christian, UK
Hi Rod just to let you know the Pentax camera arrived today and I'm delighted with it. Thanks for the great service, if any of my friends are looking for photographic equipment I'll point them in your direction. Graham.
Graham, UK
Hi, Just to say thank you for the Vivitar 283 flashgun, which I'm really pleased with. It is in superb condition. Thank you!
Josh Mowll, UK
Hi Rod , Thanks for the EOS 350D delivery this afternoon. Nice Camera and very good lens , quality better than I anticipated, takes a really nice sharp image in jpegL👍cannot complain at the price Payment has been transferred to your new bank account details. Best regards, Martin
Martin, UK
Hi Rod, Just wanted to let you know that the Hasselblad arrived all well and beautiful! I did so much research about photography and can not wait to put it to practice with this gem. Thank you for everything. Best regards, Derya
Derya, Netherlands
Hi, Just to let you know the Leica M3 turned up safe today. Very pleased with my purchase. Many thanks, Martin.
Martin Bruntnell, UK
I purchased Minolta and Olympus camera, both are point and shoot 35mm. They came in amazing condition, fast shipping and fast response to any queries. Recently got my films developed using the two cameras and the images turned out great! Thank you!
Angelica, United Kingdom
Hi Rod Ive just dropped the returns off at post office so should be with you tomorrow. Thank you so much for all your help with this. The vintage camera and fan flash looked great on stage and they managed to use a lighting effect for the flash. Kind regards Tommy Farrell
Tommy, UK