Photographic Prop Hire
Published On: 03 Oct, 2018 03:54 PM

Whilst I am no stranger to film and TV sets, this week instead of supplying photographic props for filming, one of my other passions, my Aston Martin DB7, got to be a star performer.
Following the exceptional success of the BBC afternoon comedy drama 'Shakespeare and Hathaway', filming is currently taking place for the second series staring Mark Benton (of Northern Lights and Waterloo Road fame) and Jo Joyner (Tanya Branning in East enders) as oddball Private Investigators.
– The filming location was the beautiful Broughton Castle in Banbury, and whilst I was itching to show what my pride and joy could do, filming only required my car to be parked outside the castle.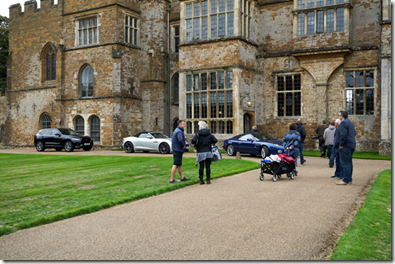 As always the filming was fascinating. It never ceases to amaze me the amount of organising it takes to end up with a clip lasting only a few minutes.
I now eagerly await my cars moment of fame, in a series in which the Two main characters, Frank Hathaway and Lu Shakespeare, investigate the secrets of rural Warwickshire's residents.
The BBC One Daytime audience love to escape into a good story and this new series is packed full of mystery and charm, which will be brought to life by an exceptional cast.
Should you be looking either for an Aston Martin or photographic prop hire (1900 to current day) including Cameras, flash, lighting, studio equipment, Darkroom etc for movie or TV filming, Camera-house.co.uk are happy to help.
---
COMMENTS
Be the first one to comment on this post.
Have your say