Jaeger-LeCoultre Compass Camera Model 11
Published On: 10 Jan, 2019 02:17 PM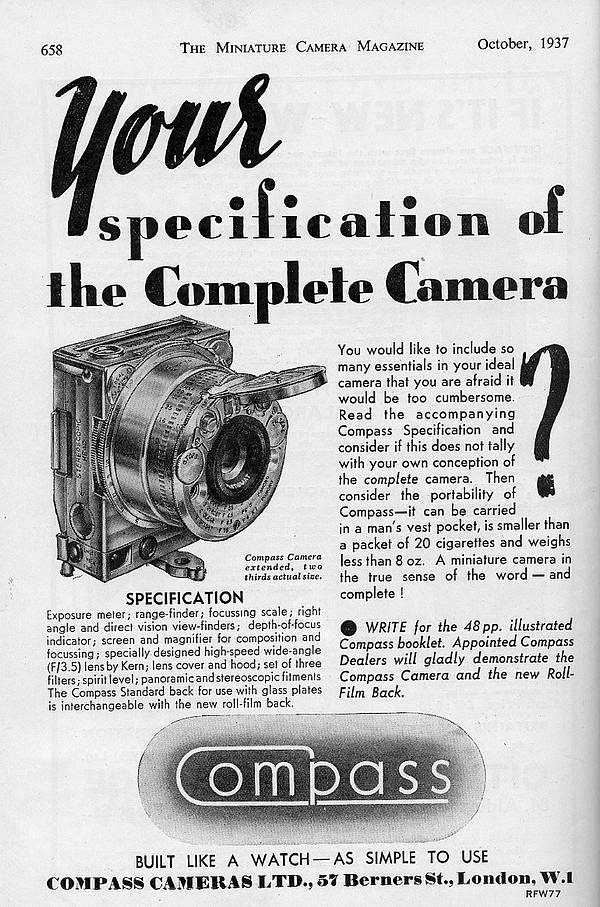 Camera House is delighted to offer For Sale a Rare and Desirable
Jaeger-LeCoultre Compass Camera Model 11
Excellent cosmetic condition and fully working (serial no 1197) in its original zip around case
Swiss-made camera is truly a tiny beauty. It is made from a solid piece of aluminum, made for 24x36 glass plate negatives
Built-in yellow, green and orange filters
Hinged Lens Cap
General Jaeger-LeCoultre Compass Information
Almost a century ago, the history of Jaeger‑LeCoultre crossed paths with that of photography. During the period between the two world wars, the Manufacture produced a camera that would remain unique in its kind: the Compass.
The compass I had a removable lens cap, no cable release fitting (the bayonet surrounding the shutter release) and no magnifier to the focusing screen. Very few could have been sold and Compass Cameras Ltd offered to replace them with the new model II when it appeared. Later adverts from 1937 show a normal model II. Serial numbers probably started at 1000 indicating that only 4000 in total were produced. This is one of the most unlikely and wonderful little machines to come out of Jaeger-LeCoultre, ever. You may have read about the Compass Camera before, but if not, it's a compact camera that JLC made in the late 1930s, and at the time it was one of the most technically advanced cameras anyone had ever made. Machined out of aluminium, it's a 35mm film camera, with rangefinder, ground glass viewfinder, exposure meter, and a ton of other bells and whistles, all in a package just 2 3/4 inches x 2 1/4 inches x 1 1/4 inches. The Compass Camera was the brainchild of Noel Pemberton Billing (1881-1948) a man of many interests, he got his start in professional life when, at the age of 13, he set fire to the headmaster's office at his school and ran away from home. Eventually he ended up in South Africa, where he worked odd jobs (apparently he was a pretty good boxer) until he was old enough to join the Army, and he ended up being wounded twice in the Second Boer War. Back in London after the war, he devoted himself enthusiastically to two things: aviation and politics. In the latter field that he became notorious – Billing held extreme right wing views and also had many rather weird conspiracy theories – but that didn't keep him from becoming a Member of Parliament in due course. The aircraft company he founded – Pemberton-Billing Ltd. – would go on to become Supermarine Aviation Works Ltd., and would manufacture, amongst other groundbreaking aircraft, the Supermarine Spitfire. This was some time after Billing had anything to do with the company, but he never lost his taste for inventing and in the early 1930s – supposedly as a result of a bet as to whether it was possible to make a camera that would fit into a cigarette packet – he began work on a miniature camera that would accept 35mm film. 35mm format film started out as cinema film and as every photography buff knows; its earliest use for still photography was when Eastman Kodak cinema film was adapted for use in still photography by Oskar Barnak, for Leitz Camera. His Leica camera debuted in 1927 and it was revolutionary, with a design that has stood the test of time with almost unbelievable stability (modern digital Leica M cameras bear a resemblance to the ur-Leica from 1927). Given the fact that what we today would call large format film was still very much a professional standard in the 1930s, it took an enterprising and slightly intolerant frame of mind to find the Leica camera excessively bulky – it itself was a miracle of miniaturization in its day – but if you wanted enterprising plus intolerant, Noel Pemberton Billing was your boy. His design required a company with expertise in miniaturization of gear trains, and instead of working with a conventional camera manufacturer, he set up his own company in London – Compass Camera Ltd. – and contracted with LeCoultre & Cie to assist with engineering and manufacturing. It's a seductively beautiful little machine. Only about 4,000 were made – the first version used individual sheets of 35mm film, while the second version allowed the use of a roll film magazine that added very little bulk to the camera (you could actually swap out backs and the roll film magazine was offered as a free upgrade to Mark I owners). The procedure for using the camera was somewhat complicated, but this was as much owing to its versatility as anything else. You would begin by opening the telescoping lens, and loading a sheet of 35mm film into the back. Closing the back would leave one edge of the light-tight paper film envelope protruding, and you would pull this out, which would leave the film ready for exposure. Amazingly enough, there were three options for focusing: a fold-out ground glass screen; a distance ring at the base of the lens (with calibrations from 1 3/4 feet to infinity) and an honest to Betsy split-image rangefinder, which is all the more remarkable when you consider that the first rangefinder Leica (the Leica II) had only come out a few years earlier, in 1932. For aperture, you had several options – the lens is f/3.5 with a 35mm focal length and there were suggested apertures, based on available light, which you could set via a dial on one side of the lens. Filters could be selected depending on whether you happened to be using orthochromatic or panchromatic film. (Orthochromatic film uses unmodified silver halide emulsion, which is much more sensitive to blue light than to green or red and which could produce very distorted contrast. This can be corrected, to some extent, with filters. Panchromatic film could compensate to some extent but still required correcting filters, and was much more expensive and in the 1930s both film types were widely used.) If you wanted to, you could also use an "extinction" type meter. This was built into a finder on the lower right hand side of the camera; it was basically a strip of transparent material of gradually increasing opacity. You pulled it out, while looking through the finder, until you could just see the highlights in what you wanted to shoot. Then you would read off a guide number, which you could use to set aperture and shutter speed.
Publishing his own journal "The Imperialist" he led a campaign against homosexuality. He then renamed his journal "Vigilante" and continued writing articles against people he thought were lesbian. Later he wrote a play "High Treason" which he filmed. It was not successful.
As for his inventions, there was his camera, a recording system meant to record much more on each record than ever before and another camera "The Phantom", a spy camera which never went into production, but its rarity led one to sell for £120,000, a record price for any camera, in 2001.
All Enquiries to
Email sales@camera-house.co.uk Tel: 07811 401219
---
COMMENTS
Be the first one to comment on this post.
Have your say