Aura Studios hired a MPP press camera and Flashgun
Published On: 06 Dec, 2018 04:38 PM
Cameras & Photographic Prop Hire
On Saturday the 1st Dec Aura Studios hired a MPP press camera and flashgun from our prop hire stock for a group studio shoot at their Studio in Birmingham.
The day started with a visit to Bewdley Railway Station for a group shoot of a forty's/war time farewell shoot, returning to the studio, via a stop off for lunch for an afternoon studio workshop session.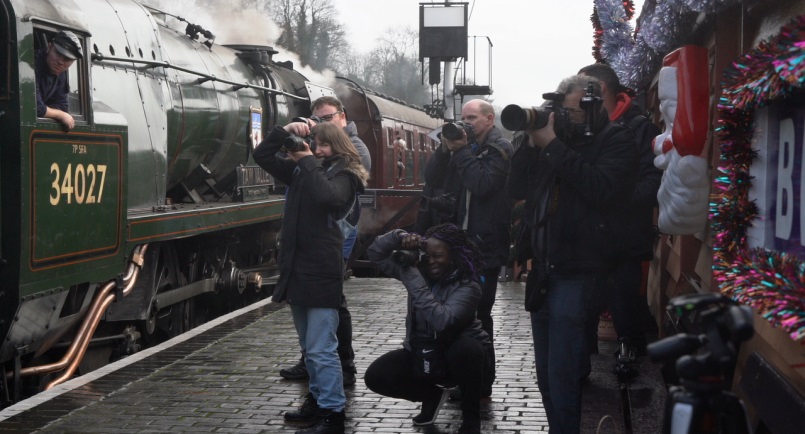 For your photographic prop hire requirements www.camera-house.co.uk
Camera House is also a prop hire company specialising in photographic props for film, TV, Theatre and events. From toy cameras to Professional movie cameras, we have a great range of equipment that can add that special detail to any set. We have hundreds of vintage, classic and modern still, movie and video cameras, tripods, lenses, darkroom equipment available. Our hire charges are based on multiples of one week and do not include shipping costs. Our stock is too large and varied to list in full, so if you don't find what you're looking for please contact us with your requirements.
Email sales@camera-house.co.uk Tel: 07811 401219
For more information on Studio hire and workshops www.auraphotographicstudios.co.uk
Aura Photographic Studio when run a variety of workshops for photographers
From beginners through to more advanced photographers, covering all aspects of lighting, this would include Beauty lighting working up to magazine cover shots through to high end fashion.
Email auraphotostudio@gmail.com Tel: 07882 003614
---
COMMENTS
Be the first one to comment on this post.
Have your say