---
New & Used Cameras & Equipment
Camera House is the oldest photographic dealer in Birmingham, and is proud to be one of the longest standing camera shops around.
We specialise in second hand and used cameras, as well as the various camera accessories to accompany them. We pride ourselves on stocking fully functional, professionally cleaned used cameras, lenses and accessories. Our large range caters for beginners through to professional-level photographers.
We also sell brand new UK sourced cameras, lenses and camera accessories including the latest digital SLRs from Canon, Nikon and Sony; Compact System Cameras and lenses for each type of interchangeable lens camera. Our camera shop has a thorough grading system for all of our stock, ensuring the quality every photographer needs.
No matter what your photography needs are, you are sure to find the second hand camera or camera accessories that you are looking for. You can trust in Camera House as one of the leading camera shops to deliver excellent standards across our range. Contact us today if you have any enquiries, we will be delighted to use our expertise to help you.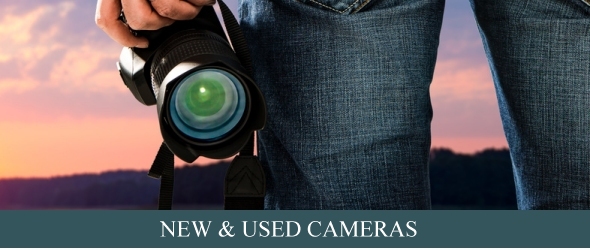 ---
What our customers say....
Hi, Just to let you know the Leica M3 turned up safe today. Very pleased with my purchase. Many thanks, Martin.
Martin Bruntnell, UK
Fast and friendly service. Offered a fair price on my used equipment. Would certainly recommend this company.
David Bell, Kent
Dear Rod, Thanks very much for repairing the lens, which was delivered yesterday and is working well. I really appreciate the effort, your helpful friendly approach and the way you responded to emails and kept me informed. I'm especially appreciative, because I bought the lens to go with an old but nice Nikon D50 body, which I bought at the same time, with the idea of creating a decent digital combo on a tight budget. So, without your efforts, the whole plan would've crumbled. I think the D50-Yongnuo will be a great grab-it-and-go camera that could well become a favourite. So, again, thanks very much and best wishes to you. Roy
Roy, UK
Hi Rod, I just wanted to drop you a note to say thank your for your patience and great service. The kit was just as I hoped, worked perfectly and my client was extremely happy with the results. Once again, many thanks. Kind regards, Lena Whitaker
Lena Whitaker, UK
Dear Camera House, Kodak 66Mk 111 arrived 18/6 in very good condition - Mint! If only you had a case for it, would definitely purchase. Any chance? Thank you for your prompt attention to my order, all best wishes, Bruce.
Bruce Gilbert, UK
Hello Rod, The parcel has arrived today, all perfect, many thanks for all. Kind regards Luís Costa
Luís Costa, Portugal
Hi Rod, Thank you so much for the express delivery, they have arrived and they are perfect! Thank you so much. again thanks! Christian
Christian, UK
Hi Rod just to let you know the Pentax camera arrived today and I'm delighted with it. Thanks for the great service, if any of my friends are looking for photographic equipment I'll point them in your direction. Graham.
Graham, UK
Hi Rod, I appreciate your help and thank you for the update. I just would like to say I am really impressed with the level of service I have received from you guys, the effort put in to ensure that I as the customer is satisfied has made me feel valued as a customer. Kind regards, Troy
Troy, Australia
Evening Rod, O/No 109 arrived today, thank you so much - Bertram lightmeter and clockwork timer both beautiful vintage pieces. Kindest regards, Adrian
Adrian, Uk