---
New & Used Cameras & Equipment
Camera House is the oldest photographic dealer in Birmingham, and is proud to be one of the longest standing camera shops around.
We specialise in second hand and used cameras, as well as the various camera accessories to accompany them. We pride ourselves on stocking fully functional, professionally cleaned used cameras, lenses and accessories. Our large range caters for beginners through to professional-level photographers.
We also sell brand new UK sourced cameras, lenses and camera accessories including the latest digital SLRs from Canon, Nikon and Sony; Compact System Cameras and lenses for each type of interchangeable lens camera. Our camera shop has a thorough grading system for all of our stock, ensuring the quality every photographer needs.
No matter what your photography needs are, you are sure to find the second hand camera or camera accessories that you are looking for. You can trust in Camera House as one of the leading camera shops to deliver excellent standards across our range. Contact us today if you have any enquiries, we will be delighted to use our expertise to help you.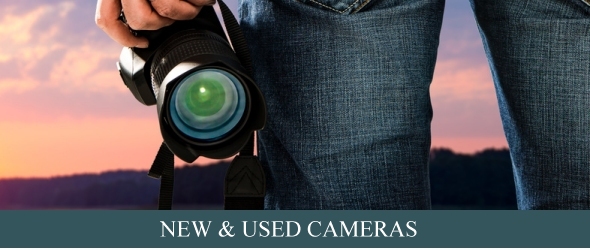 ---
What our customers say....
Just a line to say thanks for the camera and also including the USB cable and charging unit, all in excellent condition. Much appreciated. Kind Regards John
John Liddle, UK
Thanks for the speedy delivery, very pleased with the 2 lenses - great condition and price
PAUL BELCHAMBER, UK
I bought a nice little SONY compact digital camera. Unfortunately, the battery supplied was: 'a dead duck.' However, without any quibbling, a new battery arrived within a few days. I will certainly do business with Camera House in the future.
Peter H Mussell, United Kingdom
Hi. Scope received today. Very pleased with it. Thanks for prompt service. Regards John
John Devereux, UK
Hi Rod, thanks again for the great service and speedy delivery. I ordered the pentax camera and tokina lens on Friday and it was delivered first thing on Monday morning. Thanks again. Graham.
Graham, UK
Dear Rod, Thanks very much for repairing the lens, which was delivered yesterday and is working well. I really appreciate the effort, your helpful friendly approach and the way you responded to emails and kept me informed. I'm especially appreciative, because I bought the lens to go with an old but nice Nikon D50 body, which I bought at the same time, with the idea of creating a decent digital combo on a tight budget. So, without your efforts, the whole plan would've crumbled. I think the D50-Yongnuo will be a great grab-it-and-go camera that could well become a favourite. So, again, thanks very much and best wishes to you. Roy
Roy, UK
Very pleased with my Kodak 3A. Described as working and I've proved it; enjoying taking photos with a 100+ year old camera!
Nick, United Kingdom
Hi, Just to say thank you for the Vivitar 283 flashgun, which I'm really pleased with. It is in superb condition. Thank you!
Josh Mowll, UK
Hello Rod, The lens and adapter arrived in excellent condition. I would recommend your shop because of the offer selection, prices and service. Many Thanks.
Jörg Wagner, Germany
Hello, Thank you for the fast and smooth processing! Everything in order! I hope I find something interesting in your online store again. Kind regards, Klaus Schicht
Klaus Schicht, Denmark